From The Owners
"We want you to be completely happy with our service, no matter how big or small your account with us may be. Whether you pay us $11.95 a month for a hosting plan, or have us design multiple web sites for thousands of dollars, you are important for our ongoing success."
- Eric & Connie Jensen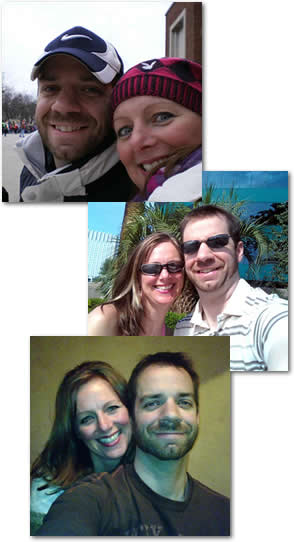 Web Pros, Inc. History
An Idea Is Born
While Eric was a junior in college at University of Wisconsin Green Bay, he was in the meat of his psychology major, but people started having a dire need to get dial up modems, use email and browse the web. Back then, he saw a business opportunity so he picked up an HTML 4 book and started learning how to code web sites using Notepad in the summer of 1998.
Shortly thereafter, he decided to form Web Pros, Inc. and his first web design client purchased a site from him in August of 1998. Back then it was a hand coded world full of animated gif's and very simply design structures. There were so many different search engines available it made it almost impossible to know which one was the 'best".
As the internet developed, and the bubble burst in 2008, times would change and so would client needs. Flash would become a craze for a very short time, and now clients demand mobile structures that resize to their phone or tablet. Facebook is now a must and keeping your blog and search engine optimization up to date is a high priority.
While Eric is the primary designer and manages the web hosting servers, his wife Connie took a role in the company in January of 2014. She handles customer service and most of the office duties.
How Have We Made It For Over 20 Years?
Our company specializes in small business web sites built around a small budget. We cater specifically to those businesses that cannot afford to shell out thousands of dollars for a web site and we are proud of the quality product that is put online when your project is complete.
But in the end, people buy people. We have been hard working small business owners for almost 2 decades and it's our customer service and respect given to our clients that have gotten us this far. Does technology constantly change? Absolutely, you have to mold your business to the latest trends and stay on top of new developments. But we genuinely care about each and every one of our clients and we believe that is why we have been in business for so long. We will travel to your site to set up an email account, we'll talk with you on the phone if you have questions, and we offer a free one hour consultation just to see if you would be interested in doing business with us.
Give Us A Shot, You'll Be Glad You Did!
We aren't the "fly by night" or "basement" company you can never get a hold of if you have questions, nor are we the overpriced "web firm" that charges an arm or a leg for a simple design. We have over 19 years experience in the web design and hosting industry and we are here to provide you with an affordable web product that you can always count on. We are professionals looking to make your web experience as pleasurable as possible.